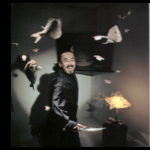 Certified Sushi & Fugu Chef: Licensed in Japan 1984
FRESH & DELICIOUS

Tetsuo-san trained in Japan under master chefs.

He had 20 years of experience in fine restaurants in Japan and New York City before moving to Summit County in pursuit of nature and a better lifestyle.

For the past 8years he has shared his expertise with dines in Breckenridge.

His mission is to provide guests with the finest quality fish and to use the best ingredients available.
The Finest Ingredients
-Our rice is the finest quality US short grain.
-We use brown rice oil for its exceptional taste and multiple health benefits.
-All sauces are the chef's own, based on tradition and creativity.
-Our fish is fresh,safe,sustainable,wild caught and environmentally friendly.
-Ahi tuna is flown in daily from Hawaii.
-Bluefin tuna is the best quality ,sustainable available in season.
-Salmon is organic Scottish and/or wild in season.